The contents below are not applicable for 2021 Summer School.
Visa
Visa Application
Inha University will send out acceptance letters in early June. If the applicant is from one of our partner universities, his/her acceptance letter will be sent to the international office at the partner university. If the applicant is not from our partner university, the acceptance letter will be sent to the applicant's home address put into the online application form.

It is the student's responsibility to use his/her acceptance letter to obtain the appropriate visa at the Korean Embassy or Consulate. In order to come to join the summer school, students will need a short term stay visa (C-3). Obtaining a visa can be time consuming and therefore all students are strongly encouraged to prepare in advance and apply early.
Arrival & Transportation
Metro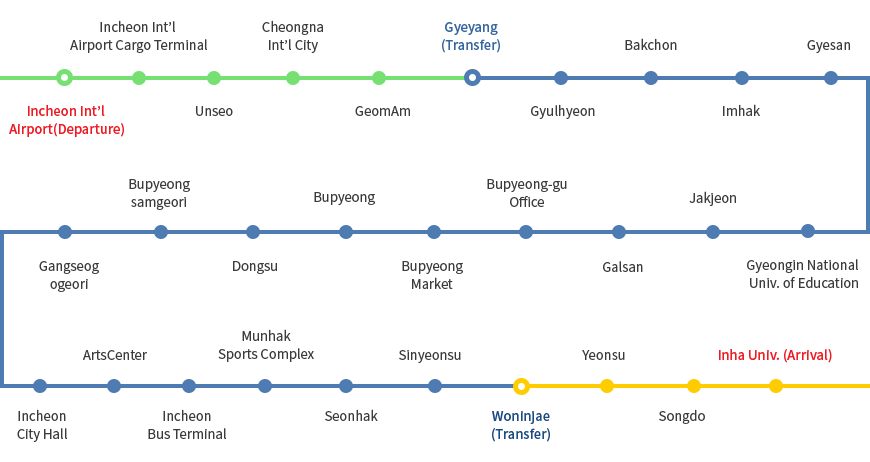 Step 1 : At the Incheon Int'l Airport, take AREX (Airport Railroad Express) to Seoul
Step 2 : At Gyeyang Station, transfer to Incheon Subway Line
Step 3 : At Woninjae Station, transfer to Suin Line for Incheon Station
Step 4 : Get off at Inha Univ. Station and take exit 5. Inha University will be on your left side
Metro + Bus/Taxi

Step 1 : Take the AREX (Incheon Airport Railroad Express) towards Seoul Station
Step 2 : Get off at Gyeyang Station and transfer to the Incheon Subway Line
Step 3 : Get off at Bupyeong Station and transfer to the Seoul Metro Line 1 and go to Juan Station
Step 4 : Get off at Juan Station and exit Gate 2
Step 5 : Take a taxi or bus No. 511 to the campus
To get to the airport from Inha University, you can follow these steps in reverse order.
Taxi
Taxi Stop to Incheon (at the airport) No.20
Fare : approx.50,000 won (approx.US $50)
Once you clear customs, and exit the main terminal, go to taxi stop No. 20 where there are taxis that will go to Incheon.
It will take less than 1 hour to get to Inha university.
Campus Map and Directions
Housing
Accommodation
All participants will reside in campus residential halls which are conveniently located within walking distance. Each student will share a room with three other students.
Dormitory features include
Internet
Laundry Facilities
Convenient Stores and Vending Machines
Public Card Phone on the Ground Floor
Shared Kitchen
Shared Shower Room
Computer Room
Gymnasium
Badminton Court
Ping Pong Table
Billiard Table
Please note that students should prepare their own daily necessities such as shampoo, soap and towels etc.
The dormitory offers blankets and pillows only.
Useful Links
Transportation
Tourism
Issues & News in Korea
Visa Affairs
Korea Immigration Service GO→
Learning Korean Language
Korea Language Study on Internet GO→
Incheon Metropolitan City